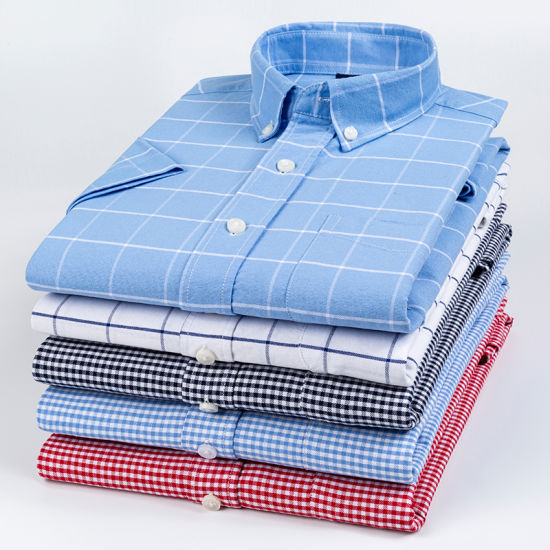 Sophisticated Shirts for Men
Sophisticated shirts may be combined and layered with many tees, trousers, and jackets. They can be full sleeves shirts or half sleeves shirts in various patterns and materials. Given their adaptability, simple shirts now make up most of a man's wardrobe, and virtually every other day, men buy shirts online. To begin with, casual shirts are available in a range of materials that adapt to the shape of your body. These include regular or slim-fit shirts that give you a smart and professional appearance.
Different kinds of shirts for men
Here are a few types of shirts for men, including style advice, starting with the essentials and the most-worn piece in any man's wardrobe:
Chinese-style collared shirt: 
These mandarin collared shirts are the best wear for the summer. You may finish the appearance by wearing them with a pair of beige pants. The term "choker collar" is frequently used to describe a mandarin collar shorter than your typical collar. These shirts are usually regular-fit shirts. The collar is short and sticks tight to the neck, as the name would indicate. To complete your final look, team up this shirt with your go-to pair of jeans and sneakers.
Oxford Shirt with Buttons: 
Are you looking for a unique method for casual clothing for the upcoming summer season? This cotton shirt is flexible with a curved hemline, a complete button placket, long sleeves, and a single pocket. Every man has one of these formal, button-down shirts in his collection. Even though it is a formal shirt, you may still wear these to more informal gatherings. To keep it casual, wear these simple, basic shirts with shorts. Wear this shirt with pegged pants to make it look more professional.
Prints have this cotton shirt that gently enhances your appearance and is the ideal choice for a carefree weekend style. This year, a Cuban collared shirt is a must-have. With good cause, this retro fashion has made a huge comeback. The relaxed and fashionable atmosphere is ideal for all well-dressed men. These shirts go perfectly with any event and look great with dark-colored pants and leather shoes.
A Peter Pan shirt works well for light layering over tees, though they could be a bit out of your comfort zone. Next, the peter pan collar is an unusual, distinctive, and fantastic option for those who aren't hesitant to stand out.
These kurta shirts look great and are reasonably priced. You can also wear these kurta shirts with your jeans, dhoti pants, or even trousers. They bring you an incredible selection of kurta shirts with hand-block prints that perfectly balance fashion and comfort. A traditional kurta and a shirt are combined to form a kurta shirt. It's a fantastic choice for both casual and ethnic situations. Save time and effort by wearing this timeless outfit with linen pants and shoes for the future wedding seasons and festivities.
We hope you're amazed and spoilt for choice with this range of picks. You are now fully briefed on the sophisticated shirts available for men. Head over to the Jack&Jones website to find the best one that fits your style by giving them a try.