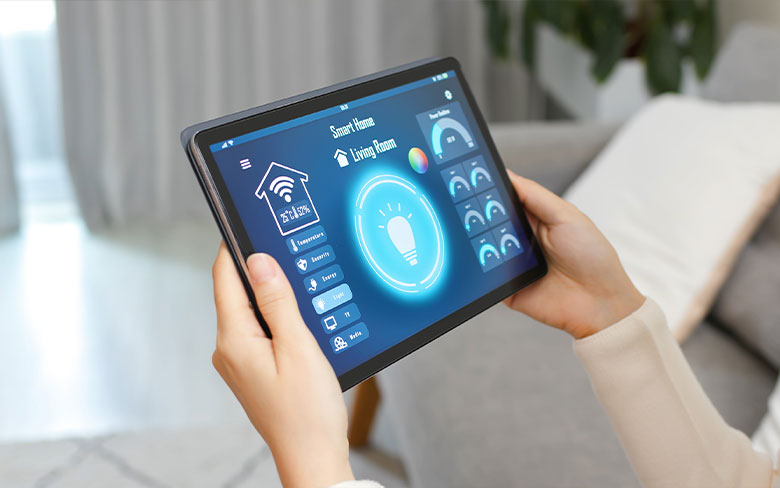 You know the saying, "Home is where the heart is," which rings true for many homeowners, and what better way to make your heart feel comfortable than with a higher degree of automation?
What is a Smart Switch?
Any technology that utilizes artificial intelligence, machine learning, and extensive data analysis to provide cognitive attention to objects that were mostly considered lifeless in the past is known as a smart switch. Many smart home systems now run effectively with Bluetooth and Wi-Fi systems. Artificial Intelligence (AI) is a trending and top-priority technology that takes first place in the list of the top 10 latest technologies in computer science. AI technology utilizes machine intelligence, which is as bright and savvy as the human brain and reacts just like humans.
Dumb to Smart Movement
The smart home is no longer a sci-fi fantasy. We've seen exponential growth in home automation technologies in the past few years. These new appliances and devices are making a living both more accessible and more enjoyable, thanks to their ability to connect our homes to the internet.
You'll want to consider four prominent technologies when upgrading your home:

Home automation system:

This will be the backbone of your smart home, allowing you to control all of your devices and appliances from one central location. Look for a system compatible with as many devices as possible to expand your setup in the future.
Smart thermostats:

These can help you save money on your energy bills by automatically adjusting your home's temperature based on your schedule and preferences. Some models can even learn your habits over time and make adjustments accordingly.
Smart lighting:

LED bulbs are more energy-efficient than traditional incandescent bulbs and can be controlled remotely via your home automation system. This means you can turn lights on or off from anywhere worldwide, create custom lighting scenes, and more.
Smart security cameras:

These can provide peace of mind by letting you keep an eye on your home while you're away. Look for features like night vision, motion detection, and two-way audio so you can see and hear what's happening at all times.
Purpose of Smart Switch
If you are looking for a way to make your home more energy-efficient, secure, and pleasant, then it is time to go smart! A smart device is a wired or wireless context-aware electronic device that performs independent computing and connects to other possible devices for data exchange. Some of the most efficient and recently adapted smart switches are smart coffee makers, smart bulbs, smart speakers, smart automatic vacuums, smart dishwashers, and smart security cameras. 
Smart-connected devices are created and devised to be remotely controlled and watched via Bluetooth, LTE, Wi-Fi, and cellular connectivity, and apps or voice are the popular portal gateways. In the real world, most people equate smart switches with being connected through some medium all the time.
Pros and Cons of Smart Switch
Smart switch is a beautiful way to enrich comfort and convenience at home. It can also assist you in saving time and energy, being more secure, and adding value to your home.
Pros:
Discount on homeowners insurance

– The advantages of smart home security comprises safety and security. When you invest in smart home security, there's an excellent opportunity that your insurance company may have deals on specific devices, and you can enjoy a discount on your policy and procedure.
Enrich convenience and amenities

– Smart home devices increase our comfort and convenience by automating our traditional interaction with our environments.

For instance, you can regulate temperature, lights, security, and other home features with a button or your voice command.

Time and energy conservation

– Innovative technology saves you time and energy in ways you can never expect.

Appropriate for those with mobility issues

– One of the imperative benefits of innovative home technology is that it is constructed to meet the needs and demands of people with mobility issues.

Advance your home worth

– Smart technology can increase equity in your home. The value of your home is boosted by its distinctive features and specific improvements, such as a whole-house automation technique.
Cons:
Significant Installation Cost –

Installing smart home technology on your property can be costly.
Helplessness if technology fails

– Technology can be challenging and demanding, especially when it doesn't work as intended.

Reliable internet connection is essential

–

Major problem you may encounter while installing innovative home technology is the stability of your internet connection.

Smart home tech is not always suitable for all houses

– Not all homes are suited for using innovative technology.

Compatibility concerns between gadgets

– If you have varied devices connected to the internet in your home, there is a good chance that each app needs to be downloaded, and they are not compatible with the other.
Conclusion
Smart homes are not just the future; they are here now. The latest innovations in home technology, artificial intelligence, and robotics have brought us to an era where we only need to tell a computer what we want our house to do, and it will do it for us.
Visit Legrand to know more about smart homes!