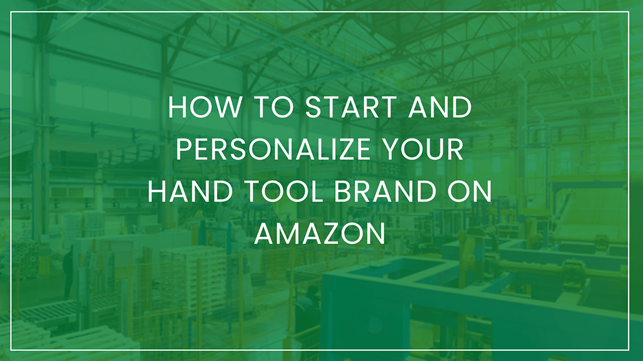 How To Start And Personalize Your Hand Tool Brand On Amazon
Partnering with the right manufacturer and supplier is essential to starting a new tool or power line brand on Amazon. How do you know where that might be?
By following this guide, you'll be walked through finding an experienced hand and power tool supplier for Amazon sellers who can provide support at every stage, including design consulting services and mass production, while you can focus on the all-important aspects of growing your business.
What is a Manufacturer?
The manufacturing industry is a competitive one, and it's important to stay ahead of the curve. Reliable manufacturers are responsible for crafting raw materials into high-quality finished goods that meet household customer demand as well as wholesalers, distributors, retailers, or even other manufacturers.
They do this by assembling, producing, and manufacturing reliable products according to what you need and specify, while also obtaining the most affordable production costs by working with them directly.
What is a Supplier?
Suppliers are an integral part of any business's success story. They provide you with all your supplies, whether it be inventory or just raw materials for manufacturing processes—without them, there would be no way to get things done.
They consist of wholesalers, distributors, trading companies, and drop-shipping companies that purchase well-known brands and products. Of course, this includes producers or factories that deal directly with merchants.
Though they do both provide products to customers, note that not all suppliers are manufacturers; some just provide services like logistics, warehousing, or distribution. This is especially true when looking for manufacturing in other countries.
Resources For Locating Manufacturers
The right manufacturer can make or break your new product idea. They'll be able to control what parts are needed for production and how much they cost per unit with their base knowledge of materials, labor rates, etc.-all things that need careful consideration before launching any kind of business.
Make sure you find one with experience in producing goods like yours, because manufacturing is a complicated business that needs working closely with clients, as there may come times when demands change or deadlines need pushing back because of unforeseen circumstances.
Finding a suitable manufacturer can be difficult because it's one of those things you just don't take lightly. So, here are some resources to help guide your search.
Manufacturer directories available online
Having a difficult time finding the perfect manufacturer for your products? Use an online suppliers or B2B directory. These sites have thousands of manufacturers with different capabilities and functions, so they'll be able to produce what's needed at any time.
Global Sourcing Specialists (GSS): This is an excellent resource if you want to hire a factory abroad, whether it's for big-scale or small-scale operations.
Alibaba: A great location to check out for global manufacturers Utilize the navigation options on the website to select vendors that best meet your requirements.
MFG.com: Manage your projects, select a manufacturer from any location in the world, keep track of their progress, and much more.
ThomasNet: Having access to more than 500,000 commercial and industrial suppliers makes it simpler than ever to locate specialized production and manufacturing companies.
Referrals or Networking
Don't just rely on your own knowledge and experience. You can always ask others for advice, whether they are people in the same or partially related industry as yourself. Your network could be full of potential resources that have had success with projects similar to yours.
A manufacturer who may not be exactly what your looking for may be able to give you some insight on other companies that deal with similar products. They're experts in this field, so they'll know which one is right for your business.
Discussion boards and social media
You may be wondering how to find the right people and make connections. Join company owner forums on Facebook, Glassdoor, or LinkedIn where customers discuss their experience with a business in an honest way that can help you decide if this is something worth investing your time into.
Online search tools
When conducting an internet search for manufacturers of products in specific categories, it is important that you be as detailed and accurate as possible. You should also take into account any keywords related to your needs, so the results don't get overwhelming with information overload; you want relevant results.
Try to include words like "manufacturer," "global supplier," or "factory" in your search phrases together with the name of your product, its category, or the intended use. For instance, since terms like "tool kits," "DIY power tools," and "home DIY" may be used similarly, you should search for any equivalent terminology.
Summary
The idea of starting your own hand tool brand might seem daunting, but we've outlined some methods here to help you find reputable manufacturers and suppliers that will produce quality products.
When looking for an appropriate manufacturer, you may feel like you are walking through a jungle. A great place to start would be determining which manufacturers can bring what value compared to other companies in regards to their level of interest and dedication towards working together.
It is important to do some research on potential partners so that your new venture has the best chance possible from day one. Achieving success requires time-consuming work, but it will be worth all the effort when you finally accomplish your goal!