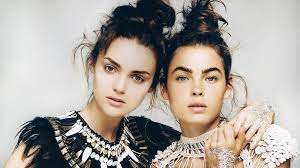 Stylish Bun Hairstyles That Every Girl Should Try Out
A fashionable bun will always offer you a chic and elegant look, regardless of your hair length or type. This easy-to-do hairdo is the perfect 'do to carry you from day to night in style, with a number of variations to fit every occasion. We've collected a list of the most stylish bun hairstyles that you'll want to mimic to help you choose the perfect style for you
Different types of buns are mentioned below: –
1. High Bun
The high bun is a timeless and stylish technique to keep your hair out of your face while still looking classy. Work a little mouse into the roots of your hair for an extremely silky and long-lasting look. Then, comb your hair away from your face and brush it into a ponytail, which you may secure with a hair tie. After that, twirl the ponytail around the hairband and fasten it with bobby pins. Spritz your finished style with hairspray for further grip.
2. Top Knot Bun
The top knot is a stylish and classy hairstyle that looks well on all hair types. It's a simple method to keep your hair out of your face while yet looking stylish. A texturizing spray, hair ties, bobby pins, and hairspray are all you need to make the top knot. It's especially helpful for second- or third-day hair that's a disaster.
3. Low Bun
Low buns are the best option for girls looking for a versatile hairdo. The sleek and elegant 'do can take you from the gym to a cocktail party in elegance. A low bun is easy to make at home, yet it looks just as good as a professional style. A braided low bun is a great way to elevate your hairstyle.
4. Knot Bun
Comb the hair back into a low ponytail and add extensions if necessary to achieve this style. Split the hair in half and twist each part tightly. Switch the left part to your right hand by bringing it up and over. Then swap to your left hand and bring the initial piece from your right hand under. Rep until you're unable to complete another full rotation. Using bobby pins, secure the hair.
5. Pigtail Buns
Pigtails aren't just for elementary school students. Pigtail buns give them a trendy and fashionable edge. This style is fun and flirty, and it's perfect for a day out with friends or something sportier. Whether you have wavy, curly, or straight hair, you can carry off this look.
6. Messy Bun 
Longer strands look great in a sloppy bun; it's sophisticated yet informal, and it's simple to make. You can alter up the look for different events because it is so versatile. Curl your loose hair at the sides of your face to make it a little more romantic and exquisite. With a side, a low or high bun, there are numerous ways to spice things up.
7. Two Buns Hairstyle
You can only keep your hair in the same style for so long before you start to feel stuck. Even though you used to be enamored with braids, you may now be yearning for newer styles. So, what's a girl to do? You don't have to fully ditch your braided hairstyle. Instead, split your hair in half and go for a stylish double braided bun.
8. Braided Bun
Buns and braids are two hairstyles that will almost certainly never go out of vogue on their own. Both are timeless and simple to do, making them ideal for days when your hair is unkempt or unclean but you still need to look put-together. Combining the two is, then, a no-brainer. Some braided bun styles may appear frightening and difficult, but they aren't as difficult as they appear. Two braids linked together can be used to create a lovely low bun style that's perfect for formal occasions.
9. Side Bun
The side bun is a terrific style for second or third-day hair that hasn't been washed. Start by spraying the dry shampoo on the hair, then loosely tying it to the side. Split your ponytail in half and twist them together until you reach the bottom. Wrap the twisted ponytail around your head and tie it in a bun. Use bobby pins to hold the bun, then take a few hairs out to make a messy bun. Finish with hairspray.
Join CelebritySchool now and get a lifetime subscription to the online makeup and hair course. There has never been a better time to improve your skills! Follow Your Passion