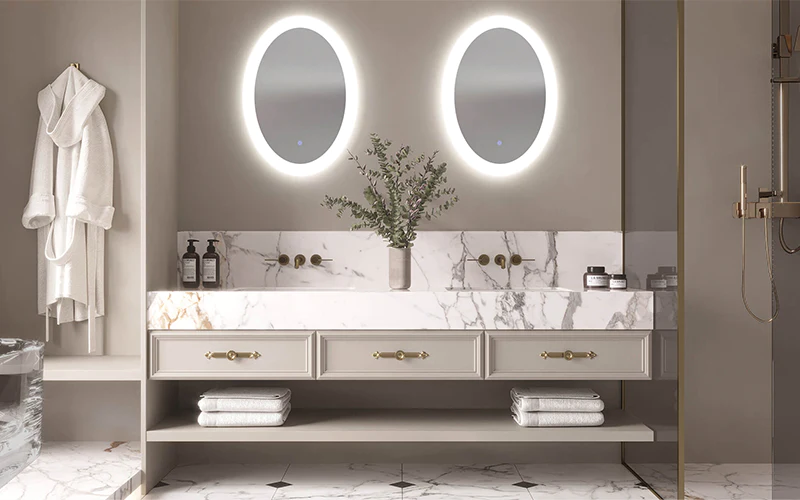 Hottest Bathroom Trends for 2023
Imagine having a broken sink and a rusted mirror in your bathroom. Swapping them out or purchasing brand-new, high-quality sink and bath mirrors will be a logical step. Making this decision can avoid future bath-related mishaps and costly expenses. And despite the abundance of available fixtures you may see in magazines and home television lifestyle, it is always excellent to coordinate with home improvement and bathroom professionals to know the latest bathroom trends.
To give you an idea of the latest trend, here is Remer's list of must-have bath essentials for 2023.
Backlit Mirrors
Mirrors are essential in any room. In addition to their cosmetic advantages, you can use them to brush your teeth, apply makeup, and style your hair. 
And at Remer, you may choose a mirror with LED lighting to glam up your bathroom. We provide the most modern LED illuminated arch mirrors, which are ideal for your bathroom. This gives your space a contemporary feel with a vintage touch, making it look stylish and inviting.
Terrazzo Floors And Walls
One of the top bathroom tile trends in 2023 is the strong resurgence of Terrazzo. The stone specks that distinguish Terrazzo can be found in any color and size. Each terrazzo design can be distinct and lovely. Customers also favor this tile design for other reasons, such as its solidity and simplicity. 
Anthracite Accents
Hard coal or black coal with a submetallic sheen are terms used to describe anthracite. It is perfect for settings susceptible to heat or moisture, such as restrooms, because of its high density and low contaminants. Any home design can benefit from the powerful impact of anthracite. It usually works best with a minimalist, natural interior. Use interior design as a focal point to define your bath space naturally.
Japandi Style
Japandi combines Scandinavian design's sleek, contemporary lines with the refined, practical Japanese style. Natural materials and neutral colors dominate its nice, simple features. 
Beige, sand, or taupe are good options if you're seeking colors for your decor. Avoid anything that is overly bright or light. Nothing should grate, jar, or overpower this bathroom theme if you want to foster a tranquil, harmonious atmosphere.
Plants
According to Pinterest, biophilic design will be a significant bathroom trend in 2023. After remodeling, one-third of respondents put plants in their bathrooms. Add one or more of these humidity-loving plants to your powder room if this describes you. Most of them claimed it was because they considered it aesthetically pleasing and comforting.
Many homeowners now prefer modern, creative, and technologically advanced bathroom decoration ideas in today's home improvement sector. They put time and effort into improving the fittings and fixtures in their bathrooms, including the accessories, sinks, bathtubs, and led mirrors for aesthetic purposes. In addition to the mentioned trends, remember that advocating for your bath's sustainability and wellness is always a yes in designing today's bathroom.